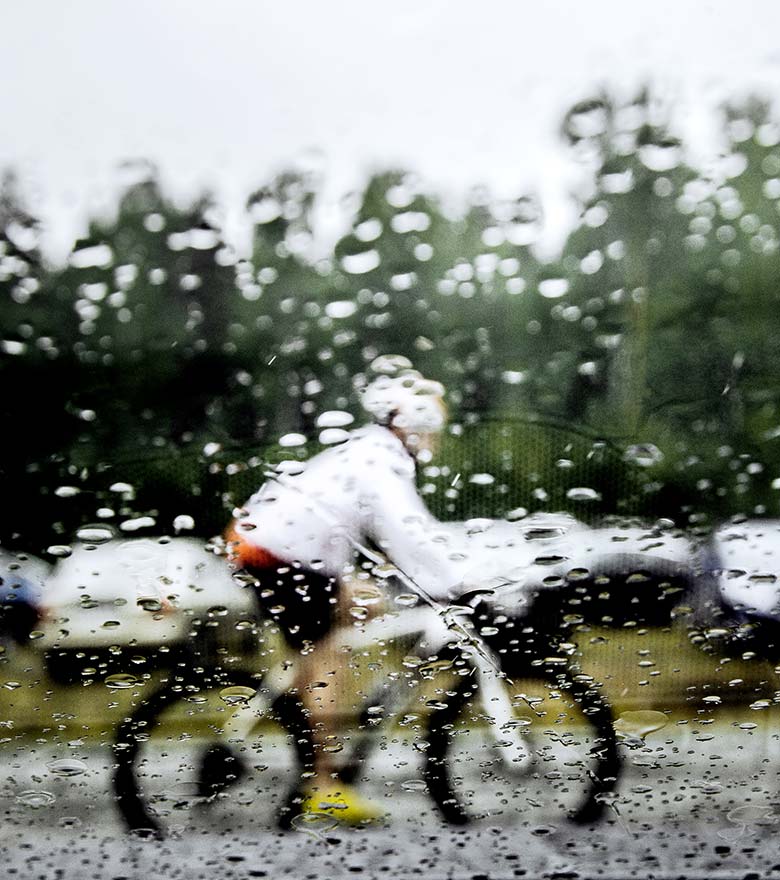 Is it Safe to Ride an Electric Bike in the Rain?
Riding electric bikes in the rain is the same as riding a generic bike in the rain, it can be done. The same can be said for scooters as well. However, there is one important thing to note with your bikes and scooters and that's making sure you don't let any water submerge the motor or battery. When it comes to electric bikes and E scooters in the rain, though, there are still things to keep in mind before you put your helmet on and head out into the gloomy weather. 
If you're still wondering "is it safe to ride an electric bike in the rain" or "can you use electric scooters in the rain", look no further. This blog will tell you exactly what you need to consider before getting on your electric bike and scooters in the rain.
If you're searching for a reliable ebike shop in Brisbane, make Easy Ride your first choice. With our exclusive range of electric bikes for sale, you can rest assured knowing you'll find what you need through us.
Is it Safe to Ride an Electric Bike in the Rain and Electric Scooters?
SPEED: Reducing your speed while riding in the rain is an important point to keep in mind regardless of what type of bike you are riding. Corners become hazardous, potholes and puddles may get in the way, so keeping your eyes in front of you and decreasing your speed limit will keep not only you but others safe as well.
TIRE PRESSURE: Something else to keep in mind, and that is also highly recommended, is letting some of the pressure out of your tires to form more traction on the wet ground. Depending on whether you carry a bag or anything heavy on your electric bike, aim to lower the pressure to low or mid-range.
CLEANING & MAINTENANCE: Keeping up with the cleaning and maintenance of your electric bikes after riding in the rain not only helps with longevity but can also save you money on services in the future. After riding electric bikes in the rain, and even E scooters in the rain, take some time to re-lube the chains and drive train, and remove the battery to give it a thorough wipe down along with specific attention to the contact points with contact cleaner.
BATTERY & MOTOR COVERS: As mentioned, letting your battery or motor submerge into water will only prove detrimental, which is why if you're travelling with your bike or scooter on a trailer during the rain, or even keeping it outdoors for long periods, you should cover the battery and motor to keep them safe from any moisture effective their use.
NEGLECTING LIGHTS: The same goes for when you're driving a car on a gloomy or wet day. Neglecting to ride your electric scooters and electric bikes in the rain without taking into consideration other pedestrians or road users will only cause major problems. This is why it's important to attach a light to the front and even the back of your mode of transportation, that way others who are out and about will be able to see you.
LEAVING THEM OUTSIDE: Leaving your electric bike or E scooters in the rain, or any sort of elements, will not only encourage issues with the way they run, but may also put you at a financial loss when you take the devices to get serviced or repaired. It's okay to leave them outside for short periods, but if you're contemplating giving them a home in the outdoors, don't. Simply store them in a dry area where they won't be susceptible to rust, decay, moisture and so on.
TURNING SHARP CORNERS: Riding in the rain means you need to be more careful about the next move you make, and this is extremely imperative when it comes to your own safety. We all know that the ground becomes slippery in wet weather, which is why we recommend taking extra care when turning corners by braking early and turning with ease. Not only will this stop the bike or scooter from slipping out beneath you, but it keeps pedestrians safe from any harm as well.
LACK OF GEAR: Failing to add the right gear to your electric transportation can make things difficult for you when it comes to cleaning but can also cause problems for the bike or scooter itself. With electric bikes in the rain and E scooters in the rain, consider adding mudguards to prevent them from getting too dirty and to stop any stones or clumps from getting into the pedals or hub.
So, is it safe to ride an electric bike in the rain and can you ride an electric scooter in the rain as well? The answer is, yes, but by ensuring you take the necessary precautions you will keep yourself and other pedestrians safe while maintaining the longevity of your electric transportation.

If you're looking to "buy electric scooter", you've come to the right place.
Easy Ride stocks a range of electric scooters and electric bikes for all skill levels. If you're interested in making a purchase, call our store front on 0434 413 679 or visit the shop at 4/226 Leichardt St, Spring Hill and our friendly staff will help you out!