Mercane Electric Scooters
Mercane e scooters are known for their quality, and a few things make them stand out:
The casting methods used to create Mercane wide wheel models have been famous and praised for decades by riders worldwide. These castings ensure a solid frame and allow for a longer motor life cycle than other brands of similar specs like Schwinn or Razor.
The wheel assemblies on these scooters are designed to adjust themselves to uneven terrain so that they never get stuck!
Mercane e scooters high-quality front and rear suspension system keep your ride smooth no matter where you go!
The WideWheel Pro is the perfect scooter for anyone who wants to have fun on the move. The wide tires and dual spring suspensions provide a smooth, comfortable ride and the 10-centimetre-wide wheels give a feeling of floating that is unlike any other kind of scooter on the market.
Advantages of Owning a Mercane E Scooter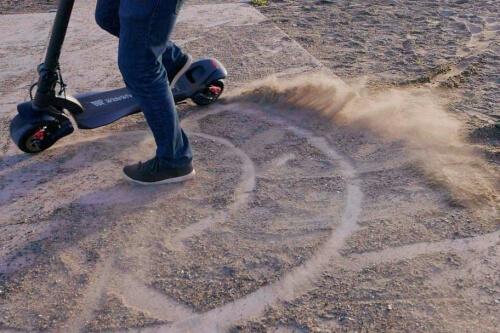 Superior tech
The Mercane Widewheel Pro is the ultimate electric scooter, as it has an integrated LCD display that shows you all of your important stats, such as speed and battery voltage remaining. You can also control ride settings with two buttons on the handlebar.
A faster commute with Mercane
Mercane e scooters are perfect for commuting, as you can carry them onto public transport with ease. Using a unique locking mechanism, Mercane e scooters can be folded and carried by hand – an option that many e scooter brands don't offer. If the walk to and from a station is too far, an electric scooter can cut time by up to four times as much.
Cheaper than traditional transport
Live close to your work but not close enough to walk? Mercane e scooters are the perfect solution. A car can quickly rack up thousands of dollars a year in running costs, maintenance and parking, and public transport can easily cost $50 a week or more with adult fares. With a Mercane electric scooter, your only cost is the energy needed to charge it.
Advantages of Owning a Mercane E Scooter
Kinder to the environment
If you're using a car for only one passenger, driving to and from work each week doesn't justify the cost to the environment. Mercane electric scooters offer a much more environmentally friendly solution, with the added benefit of being a fun ride too!
Fun to explore the city with
Mercane electric scooters are fast becoming one of the most popular modes of transport around the city and it's easy to see why! Compact, fast, and easy to use, electric scooters can make exploring your local areas a lot more fun – especially when dealing with hills. They offer a similar thrill to motorcycles without the danger of dealing with congested traffic.
Cheaper maintenance
When a car breaks down, it can end up costing thousands of dollars to fix – but with Mercane electric scooters it's much easier to repair or replace parts. At Easy Ride, we offer servicing for all e scooters and e bikes purchased through our store. Simply pop into our store and your e scooter will be back to optimum performance in no time.